Bible Commentaries
are a great tool in studying the Bible. It is not, by any means, a substitute to the reading of the Bible itself, and prayerful digesting and applying it under the guidance of the Holy Spirit. And yet the commentaries can prove to be faithful companions in getting a better knowledge of the Scriptures.
Quote:
"In order to be able to expound the Scriptures, and as an aid to your pulpit studies, you will need to be familiar with the commentators: a glorious army, let me tell you, whose acquaintance will be your delight and profit.
…It seems odd, that certain men who talk so much of what the Holy Spirit reveals to themselves, should think so little of what he has revealed to others. … A respectable acquaintance with the opinions of the giants of the past, might have saved many an erratic thinker from wild interpretations and outrageous inferences."
[RIGHT]~ C. H. Spurgeon, "On Commenting and Commentaries"[/RIGHT]
On his blog HeadHeartHand, David Murray offers
20 Tips on How to Use Bible Commentaries
, which we found very informative and useful. Here are several of those tips:
Use them to help you understand grammar and syntax;
Use them to confirm or correct your pericope and translation;
Use them to highlight unasked questions (and help find answers to such);
Use them to find other passages that are related to this one.
Here are OSNOVA's recommendations for Bible Commentaries for the Kindle:
The Treasury of David: Commentary on the Psalms by Charles Spurgeon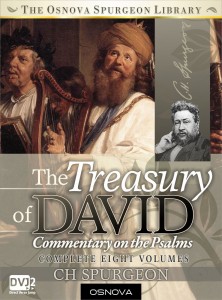 This book is a magnum opus of an outstanding Christian author and preacher Charles Haddon Spurgeon, who spent many years working on this unparalleled commentary on the Book of Psalms, giving his personal exposition on each verse, enriching it with extracts and quotes from hundreds of Bible commentators of his time as well as the great Puritan expositors of the seventeenth and eighteenth centuries.
Matthew Henry's Complete Commentary on the Whole Bible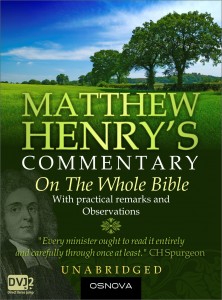 Matthew Henry's six-volume 'Exposition of the Old and New Testament' has long been celebrated as the best of English commentaries of the Bible for devotional purposes. It provides an exhaustive verse by verse study of the Bible, covering the whole of the Old Testament and the New Testament, dealing with the Scripture text as presented.
Charles Spurgeon wrote about this commentary, "Every minister ought to read it entirely and carefully through once at least."
Jamieson, Fausset, and Brown's Commentary of the Whole Bible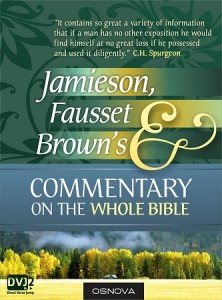 Jamieson, Fausset, and Brown's Commentary of the Bible remains the preeminent evangelical expository commentary of the Scriptures. It provides verse-by-verse exposition of most Bible passages in insightful, accurate, succinct, and easy to understand articles.
Charles Spurgeon highly praised the JFB Commentary: "It contains so great a variety of information that if a man has no other exposition he would find himself at no great loss if he possessed and used it diligently."
Exposition of the Old and New Testaments by John Gill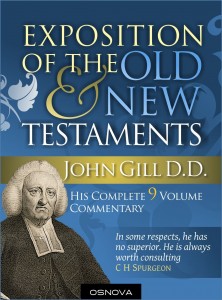 Gill's Bible Commentary is among the very first verse-by-verse commentaries of the Bible, written by the 18th century theologian and Biblical scholar John Gill. The commentary contains priceless gems of information that are found nowhere except in the ancient writings of the Jews.
John Gill's works were among Spurgeon's personal favorites. He wrote about Gill: "In some respects, he has no superior. He is always worth consulting."
There are a couple of other Bible commentaries that we found useful:
Along with Bible commentaries, we also recommend using
the International Standard  Bible Encyclopedia
.