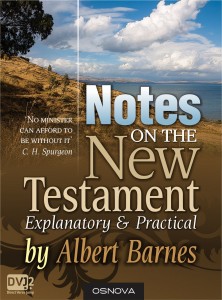 We are happy to announce for Christmas the release of Notes on the New Testament by Albert Barnes for the Kindle.
The best-selling Notes on the New Testament were written over a number of years in 11 volumes by the 19th century American theologian Albert Barnes. They contain evangalical verse-by-verse explanation of the Bible using the King James translation. Charles Spurgeon said of this commentary, "No minister can afford to be without it."
This OSNOVA Kindle edition contains complete and unabridged text of the Notes in one electronic publication, which is made easy to navigate via a Direct Verse Jump (DVJ) method, an active table of contents, and a cross-reference system between the Notes and the included Bible.
The DVJ works both for the Bible and the Notes, making it easy to open any Bible verse or Notes passage. There are also other navigational aids, described in detail at the beginning of the book. We highly recommend that you take time to read the instructions on how to use this excellent study tool effectively before you dig into the book!
DISCLAIMER: Not all features of this publications are supported on Kindle applications (e.g., Kindle for iPhone, iPad, or PC) or some Kindle models (e.g. original Kindle Fire). This is a limitation imposed by software developed by Amazon and is out of our control.
If you have any questions or concern please email us first at osnova@gmail.com. We want to provide the best service and receive five-star reviews from you!  Please leave positive reviews!