"Glory to God in the highest, and on earth peace,

good will toward men."  Luke 2:14
Our family here in Virginia had a lovely Christmas season, enjoying a nice warm weather and wonderful time with family and friends. What a blessing it is to be able to celebrate the true reason for the season – Jesus Christ born as a humble baby to bring the peace to this world and demonstrate God's good will toward men!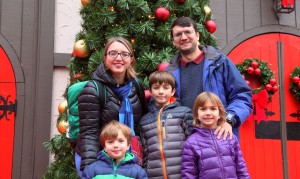 However, as we enjoyed the festive Christmas service, the holiday meal, and the warmth of fire in the wood stove, we couldn't help but think and pray of Christians in the Middle East, in North Korea, in Africa who face persecution and death daily, of all the countries torn by unrest and war, of our motherland Ukraine under attack, of our wonderful new homeland America scarred  by unrest in Ferguson. Our world is drowning in violence and pain, and peace seems to be a mirage. Our thoughts and feelings are nothing new. Over a hundred years ago Henry Wadsworth Longfellow expressed pretty much the same but more poetically in his 'Christmas Bells':
I heard the bells on Christmas Day
Their old, familiar carols play,
And wild and sweet
The words repeat
Of peace on earth, good-will to men!

….

And in despair I bowed my head;
'There is no peace on earth,' I said;
'For hate is strong,
And mocks the song
Of peace on earth, good-will to men!'

Then pealed the bells more loud and deep:
'God is not dead; nor doth he sleep!
The Wrong shall fail,
The Right prevail,
With peace on earth, good-will to men!'

~ Henry Wadsworth Longfellow
Today, just like ever before, this world needs peace; today this world still desperately needs a Savior. This world needs Jesus. We as His people, His followers, are given the mission to carry on the song sang by angels so many years ago: "Glory to God in the highest, and on earth peace, good will toward men". Our God is not dead, and He is coming back for His Church! While there is still time, we will shine His light and carry His Word to the world in need.
May this new year be a year when we re-commit to  our Lord and Savior, draw closer to Him, and spread the good news of His salvation to all the nations! And may God's peace rule in our hearts and minds!