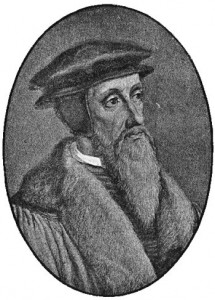 John Calvin was a theologian, pastor, biblical exegete, and tireless apologist for Reformed Christianity, and ranks among the most important thinkers in church history. His theological works, biblical commentaries, tracts, treatises, sermons, and letters helped establish the Reformation as a legitimate and thriving religious movement throughout Europe. No theologian has been as acclaimed or assailed as much as Calvin.

(Source: Calvin500)
From John Calvin's Institutes of Christian Religion:
"No one can travel so far that he does not make some progess each day. So let us never give up. Then we shall move forward daily in the Lord's way. And let us never despair because of our limited success. Even though it is so much less than we would like, our labour is not wasted when today is better than yesterday!"
"For as the aged, or those whose sight is defective, when any book, however fair, is set before them, though they perceive that there is something written, are scarcely able to make out two consecutive words, but, when aided by glasses, begin to read distinctly, so Scripture, gathering together the impressions of Deity, which, till then, lay confused in our minds, dissipates the darkness, and shows us the true God clearly."
"Hence follows the other principle, that we are not to seek our own, but the Lord's will, and act with a view to promote his glory. Great is our proficiency, when, almost forgetting ourselves, certainly postponing our own reason, we faithfully make it our study to obey God and his commandments. For when Scripture enjoins us to lay aside private regard to ourselves, it not only divests our minds of an excessive longing for wealth, or power, or human favour, but eradicates all ambition andthirst for worldly glory, and other more secret pests. The Christian ought, indeed, to be so trained and disposed as to consider, that during his whole life he has to do with God."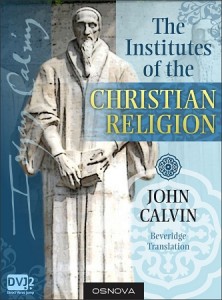 These fundamental thoughts are just the tip of the iceberg. There is much more where they came from. We highly recommend Calvin's Institutes for every Christian library, and for that purpose we're offering a 60% off discount on the Kindle version of this book on Amazon, starting today and through February 19th.
Get your own copy for $1.99 and share
your favorite quote from this book
in the comments below!