Early one January an adult Sunday school class had just begun its session. The Bible teacher got up and asked a simple question. He had asked this question in other classes and venues, and knew what the answer would be. "How many of you have read the Bible all the way through"? He asked for a show of hands. Many in the class looked at each other and seemed a little ill-at-ease with the question. One lady in the back of the room raised her hand. In classes of 25 to 30 students, this was normal: one or two believers had actually read the Bible through. The rest were embarrassed; inevitably tried to justify their response with mumbled replies.
We now face the beginning of a new year. There are many who will be trying to design improvements to their physical situation or emotional wellbeing. A few will be concerned about their spiritual growth and behaviour and will resolve to read the Scriptures on a regular basis.
Reading the Bible through is one of the most basic and helpful ways to provide growth and maturity in the Christian heart and life.
Some people like to try to read the Bible through in a year. This is a noble task. For many, however, it creates some problems.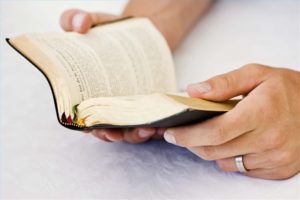 In our current day and age, many people—especially younger people—have difficulty reading complete books. Some have difficulty with well-written paragraphs. Still others can only comprehend short cropped phrases. For many people reading and writing is confined to 140 characters or less. Some have difficulty following an argument from paragraph to paragraph. All these things affect their understanding of what is formally written, leaving them unable to comprehend what's on one page of the Bible, much less what's on the rest of the pages.
A second difficulty with reading the Bible through can be lack of interest—spiritual, doctrinal or subject matter. It is difficult to read the Bible for some because they just aren't interested in what is in the Bible. It is important that each time you begin your Bible reading you take time to pray and ask the Lord to help you with your interest, diligence and understanding. Ask God to teach you by his Spirit through his Word.
A third problem involved with reading the Bible through is time. There are so many pulls on our time each and every day that we don't have any moments to spare to come aside and read the Bible. We make good progress at taking ten or fifteen minutes to spend time with the Lord in his Word, but then one thing or another manages to steal that time away.
Thus, it takes quite a commitment to begin daily Bible reading, and particular diligence to read it consistently and all the way through.
The most important thing in deciding to read the Bible on a daily basis is to remember that you are meeting God through reading his Word. You are doing this for your relationship with him and your spiritual growth. It is to know God better.
There are several practical ways of reading the Scriptures and of reading all the way through. First is the need to set aside time to do so; second is determining how you're going to do it. Would morning or evening be best? Third is should you endeavour to read through the Bible in one year, or two, or five? Will you read straight from Genesis to Revelation or use some other system?
There are many tools which are available for the believer. There are numerous translations in English—some are good, while others are a detriment to spiritual growth. There are devotional Bibles which have the text divided into 365 day increments for convenience. Many Bibles have a Bible reading plan located in the back of the Bible, and there are many Bible reading plans available on the Internet. The wonderful Christian blogger Tim Challies has a recent article on this.
Some people like to read the Old Testament text in the morning and the New Testament text in the evening. Thus they start and finish the day in God's Word. They will often start in Genesis and Matthew, and just plough through.
There are many who will try to read the Bible through during the calendar year 2017, and while this is a noble endeavour, it can be rather difficult, particularly if you set a specific amount to read daily. There may be certain days that will interrupt the reading schedule because you are ill or traveling or for some other valid reason, and you will struggle to catch up. If you do not have time to go back and catch up on your reading, it is perfectly acceptable to pick up again on the next day and continue on. You may miss some of the details or context, but you will be able to continue without the burden of having to make up readings which slow you down and eventually cause you to stop altogether. Being able to brag that you have read every single verse of the Bible is not why you have committed to reading the Scriptures. It is important to read the Bible completely even if you miss several small sections.
Dr Allen Fleece recommended that you could spend thirty days in a book of the Bible. He recommended starting with Romans. You read as much as you can each day, and when you reach the end you start over. You do this for thirty days. Then you continue in 1 Corinthians for thirty days. Some people like to add "Spiritual Vitamins" by reading a chapter of the book of Proverbs each day of the month.
Some people read the Bible all the way through, not concerned with when they finish. They average a chapter or two a day, and take time to slow down if necessary to ensure they understand what they've read. They take their time day-by-day in God's Word.
It is my hope and prayer that you will make a decision and a commitment to read God's Word consistently in the coming year, that you will understand what you read and that you will be able to have a much closer relationship to God through his Word. God is as willing as he is able to assist, help and bless you in this.
As Dr Fleece used to put it, "When you open your Bible God opens his mouth; when you close your Bible God closes his mouth". Make your commitment today.
Blessings,
GW Anderson
Spoudason Services
George W. Anderson taught at Columbia International University before becoming the Editorial Manager as well as an Editorial Consultant of the Trinitarian Bible Society in London. Mr. Anderson offers his knowledge and expertise at Spoudason Services, a research & teaching consultancy in Bible, NT Greek, hermeneutics & theology for Bible students, SS teachers, pastors & missionaries.