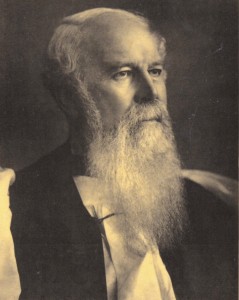 John Charles Ryle was born on the 10th of May 1816 at Macclesfield, England in the family of a wealthy banker. Being a fine athlete and a highly educated man, John had promising career opportunities both in educational and political spheres. However, while hearing Ephesians 2 read in church in 1838, he felt a spiritual awakening and choose a path of ordained ministry.
Ryle was an earnest gospel preacher and teacher, as well as a prolific writer. As noted by another bearded man of God, John Ryle "was a controversial leader taking a strong stand for the truth and against error. His writing, like his the rest of his ministry, was both robustly doctrinal and devotional. He labored to help people know the Truth, and live by it."
John Ryle has left a rich legacy of written works that continue to bless the readers even now. Among the favorites are his Holiness and Practical Religion.
Practical Religion was written by John Ryle with the intent to discuss the practicality and dailiness of Christian faith, to look at "the daily duties, dangers, experiences, and privileges of all who profess and call themselves true Christians. Ryle expressed his hope that read in conjunction with Holiness, this book "will throw some light on what every believer ought to be, to do, and expect".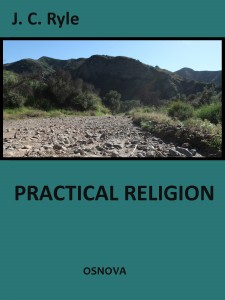 In the very first chapter of Practical Religion, Ryle writes:
"We live in the age of peculiar spiritual danger. Never perhaps since the world began was there such an immense amount of mere outward profession of religion as there is in the present day. A painfully large proportion of all the congregations in the land consists of unconverted people, who know nothing of heat-religion, never come to the Lord's Tale, and never confess Christ in their daily lives. Myriads of those who are always running after preachers, and crowding to hear special sermons, are nothing better than empty tubs, and tinkling cymbals, without a jot of real vital Christianity at home."  (Practical Religion, Self-Inquiry)
 It is hard to disagree with this statement, despite the fact it was written well over hundred years ago!.. Doesn't our society and the contemporary church suffer from the same ailment?
In this timeless book, J.C. Ryle writes about prayer, Bible, freedom, happiness, charity, the world, the church, the family, eternity, and other subjects that are important and relevant today as ever.
We strongly feel that Practical Religion is a book that must be read by every Christian, regardless of age and status. Therefore, starting today and for the month of March, we would like to offer this book free at our web-store. Get your own copy for Kindle or for Nook today!